About Granite, The Ultimate Countertop
Granite was created approximately 300 million years ago as molten rock. It hardened into one of the most durable materials known to man. Much harder and less porous than marble, it may be diamond-cut and polished to allow its use to beautify your home.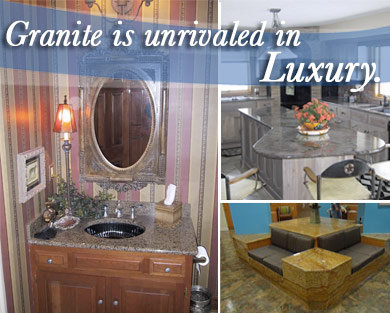 Why Use Granite?
It is natural stone and is available in a wide range of colors.
Each piece of granite is a uniquely beautiful, one of a kind, with unique color and pattern. Granite is unrivaled in luxury.
Each installation is designed to your particular needs.
Granite is sealed upon installation and easily maintained. It is stain resistant and non-marring.
Granite is scratch resistant and heat resistant. In comparison, acrylic/polyester solid counter tops scratch much more easily. One hot pan from the oven may mean a major refinishing. Granite has low porosity. Bacteriological studies have shown granite to be easily disinfected.
Granite is permanent and nonflammable. It is used in public buildings in walked upon high traffic areas and in outdoor monuments.
Granite's durability and beauty cost no more than its solid surface competition and in some installations cost less.
Many custom profile edges available. See edge types and info sheet here.
Granite adds to the resale value of your home.
At Nik-A-De Granite Countertops, we have the knowledge and skills to help you custom design, choose and attain the final quality and appearance you deserve.
Call 330-336-5272 or E-mail Us today for a free quote!