Welcome to Nik-A-De Granite Countertops
Nik-A-De has been installing granite and quartz countertops for satisfied customers for over 30 years.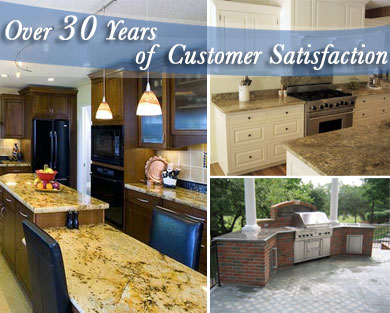 A reference client list is available upon request.  We are located in Wadsworth, Ohio and serve Medina, Akron, Cleveland, Northeast Ohio and surrounding areas.
We pride ourselves in bringing you the finest quality granite and quartz products possible in a large array of decorator colors. We procure granite materials from various locations in the world. We are professional installers for both residential and commercial customers.

At Nik-A-De we provide you with a knowledgeable, courteous support staff. We pride ourselves in professional installations and custom project designs.
We specialize in granite and quartz countertops, islands, bars, and vanities. Our under-mounted sinks give your kitchen, bathroom, or bar a beautiful custom finished appearance. We also often do granite flooring designs, back splashes, and more.  The options are endless for these long lasting, durable building materials.  We have examples of the many granite and quartz colors available. Each granite or quartz type offers unique grain and color. We feel sure you will find the right choice for your needs. See info sheet to view options.We hope you will consider granite or quartz for your new construction or remodeling project of your home or business.
Wherever you want the luxury and value granite and quartz offers, we hope you give Nik-A-De an opportunity to serve you. 
Call 330-336-5272 or E-mail Us today for a free quote!